Roman epigraph (Épigraphe romaine)
Last update 13 June 2021
• ENGLISH VERSION •
• Dimensions: height 143 cm - width 73 cm - thickness 8 cm
• Dating: 1st century AD.
• Text:
P(ublio) Toranio T(iti) f(ilio)
Pol(lia) Secundo,
veterano leg̣(ionis) X̅I̅I̅I̅,
patri,
Iuniae M(arci) f(iliae) Primigenia[e],
matri.
Torania P(ubli) [f(ilia)] Primạ
v(iva) f(ecit).
Translation:
Torania Prima, daughter of Publius, had this monument made while she was still alive to her father Publio Toranio Secondo, son of Tito and member of the Pollia tribe, veteran of the thirteenth legion, and to his mother Giunia Primigenia, daughter of Marco.
---
In the triangular tympanum a shield resting on two crossed spears is depicted, in the lower strip there is in the center the image of the head of Medusa (one of the Gorgons, mythological beings who petrified with a single glance) from which two snakes emerge in the act of pounce on a bird. The epigraphic mirror is surrounded by a molded frame.
Publio Toranio had been a soldier and had fought in the XIII Legio Gemina (Twin Legion) under the command of Caesar Octavian. The legion was disbanded after the victory of Actium (31 BC) and the veterans were given Roman citizenship and land to cultivate in Italy. In Toranio, as well as other soldiers, a large estate was granted in the Asti lands, where, with their presence, they strengthened the spread of Roman culture and customs in the city and in the territory.
The legion was famous because it had already served under Julius Caesar in the campaigns for the conquest of Gaul.
It was the thirteenth legion that first crossed the Rubicon river, then considered the state border, starting the war against Pompeo and the senate [Alberto Crosetto, SABAP-AL].
Found by chance in 1948 during clearing works, it was deposited on the edge of a cultivated field, in the Grisana di Revigliasco d'Asti region (today the area where the Strada Comunale Rivo Cuneo begins).
• It was first published in C. Carducci, News of the Excavations of Antiquity, 1950, pp. 202-203.
We thank for their generous contribution:
The Cassa di Risparmio di Asti Foundation
The Gerbo family in memory of Nanda and Pierino
The architect Laura Borgo
---
• FRENCH VERSION •
• Dimensions: hauteur 143 cm - largeur 73 cm - épaisseur 8 cm
• Datation: 1er siècle après JC.
• Texte:
P(ublio) Toranio T(iti) f(ilio)
Pol(lia) Secundo,
veterano leg̣(ionis) X̅I̅I̅I̅,
patri,
Iuniae M(arci) f(iliae) Primigenia[e],
matri.
Torania P(ubli) [f(ilia)] Primạ
v(iva) f(ecit).
Traduction:
Torania Prima, fille de Publius, fit faire ce monument de son vivant à son père Publio Toranio Secondo, fils de Tito et membre de la tribu Pollia, vétéran de la treizième légion, et à sa mère Giunia Primigenia, fille de Marco.
---
Dans le tympan triangulaire est représenté un bouclier reposant sur deux lances croisées, dans la bande inférieure il y a au centre l'image de la tête de Méduse (l'une des Gorgones, êtres mythologiques qui pétrifiaient juste le regard) d'où émergent deux serpents dans l'acte bondir sur un oiseau. Le miroir épigraphique est entouré d'un cadre moulé.
Publio Toranio avait été soldat et avait combattu dans la XIII Legio Gemina (légion jumelle) sous le commandement de César Octavian. La légion a été dissoute après la victoire d'Actium (31 avant JC) et les anciens combattants ont reçu la citoyenneté romaine et des terres à cultiver en Italie. À Toranio, ainsi qu'à d'autres soldats, un grand domaine a été concédé dans les terres Asti, où, avec leur présence, ils ont renforcé la diffusion de la culture et des coutumes romaines dans la ville et sur le territoire.
La légion était célèbre parce qu'elle avait déjà servi sous Jules César dans les campagnes de conquête de la Gaule.
Ce fut la treizième légion qui traversa d'abord le fleuve Rubicon, puis envisagea la frontière de l'État, déclenchant la guerre contre Pompeo et le sénat [Alberto Crosetto, SABAP-AL].
Trouvé par hasard en 1948 lors de travaux de défrichement, il a été déposé en bordure d'un champ cultivé, dans la région de la Grisana di Revigliasco d'Asti (aujourd'hui la zone où commence la Strada Comunale Rivo Cuneo).
• Il a été publié pour la première fois dans C. Carducci, News of the Excavations of Antiquity, 1950, pp. 202-203.
Nous remercions pour leur généreuse contribution:
La Fondation Cassa di Risparmio di Asti
La famille Gerbo à la mémoire de Nanda et Pierino
L'architecte Laura Borgo
---
Short update on the restoration works and on the new location (Bref point sur les travaux de restauration et sur le nouvel emplacement)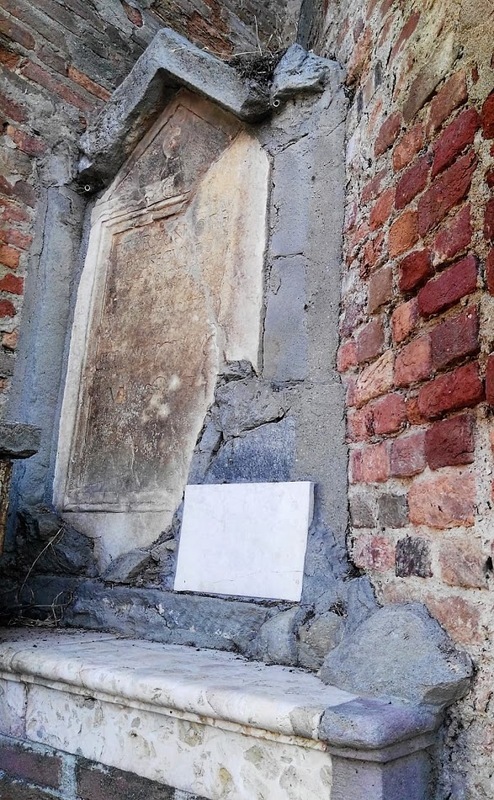 • ENGLISH VERSION •
In December 2017, the Municipal Administration asked the Superintendence of Fine Arts and Landscape for authorization to carry out the restoration of the ancient Roman plaque placed behind the church between the sacristy and the apse and to move it to the main entrance of the building. Comunale, in Piazza Alfieri 1, a place that will allow both to keep the work in healthier conditions as well as more visible for citizens and visitors of the town of Revigliasco d'Asti.
After several inspections in February 2019, the Superintendency authorizes the company MARELLO RESTAURI S.A.S. to provide for the removal of the tombstone and its restoration at the Cocconato laboratory.
At the end of July 2020, once the restoration has been completed, the plaque is brought back to Revigliasco d'Asti.
The plaque finds its final location in the Town Hall on the ground floor
---
• FRENCH VERSION •
En décembre 2017, l'Administration municipale a demandé à la Surintendance des Beaux-Arts et du Paysage l'autorisation de procéder à la restauration de l'ancienne plaque romaine placée derrière l'église entre la sacristie et l'abside et de la déplacer vers l'entrée principale du bâtiment. Municipale , sur la Piazza Alfieri 1, un lieu qui permettra à la fois de maintenir le travail dans des conditions plus saines et d'être plus visible pour les citoyens et les visiteurs de la ville de Revigliasco d'Asti.
Après plusieurs contrôles en février 2019, la Surintendance autorise la société MARELLO RESTAURI S.A.S. prévoir l'enlèvement de la pierre tombale et sa restauration au laboratoire Cocconato.
Fin juillet 2020, une fois la restauration terminée, la plaque est ramenée au Revigliasco d'Asti.
La plaque trouve sa disposition définitive dans la mairie au rez-de-chaussée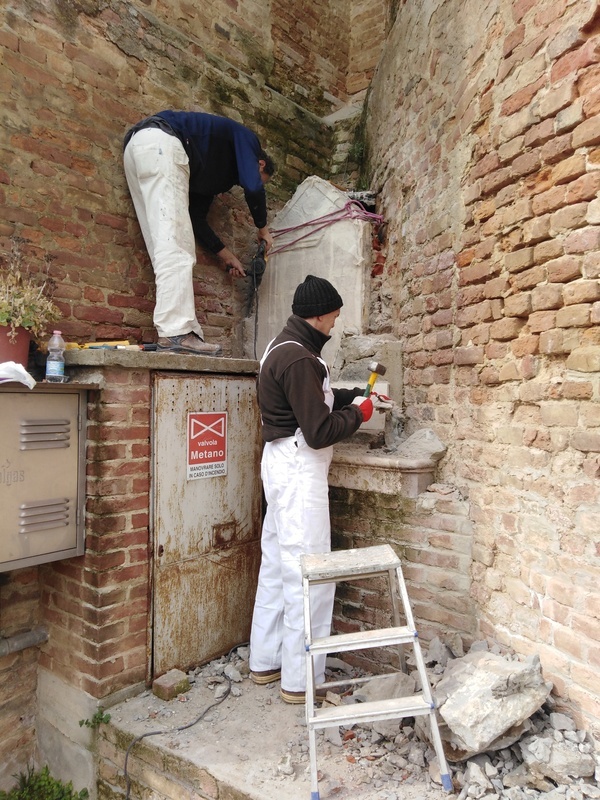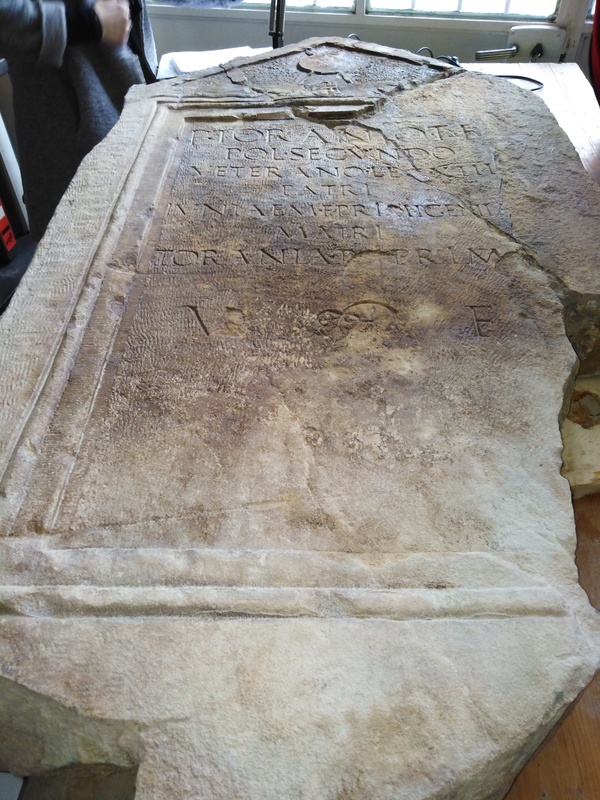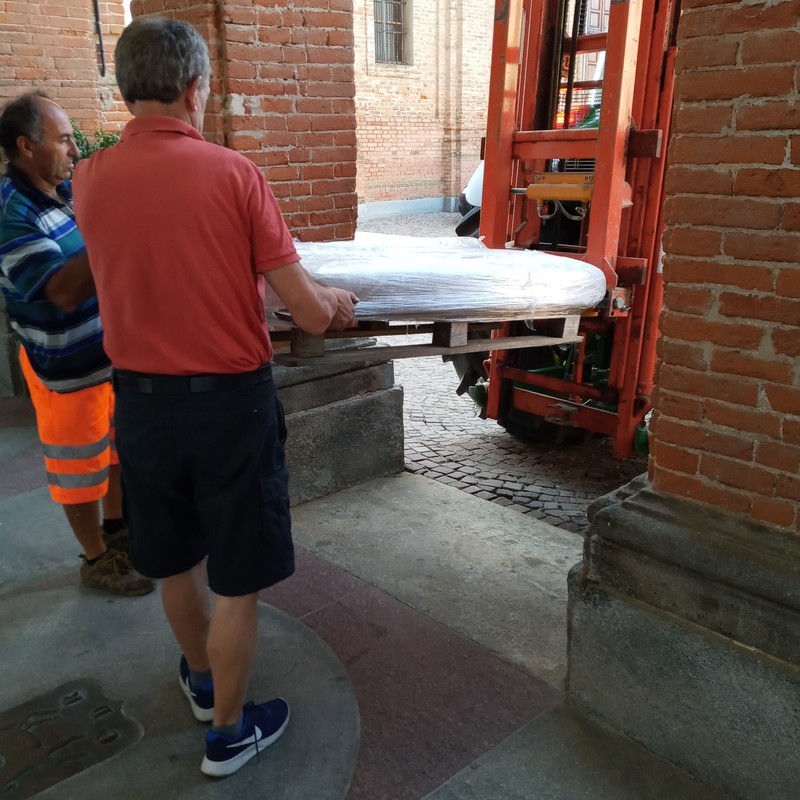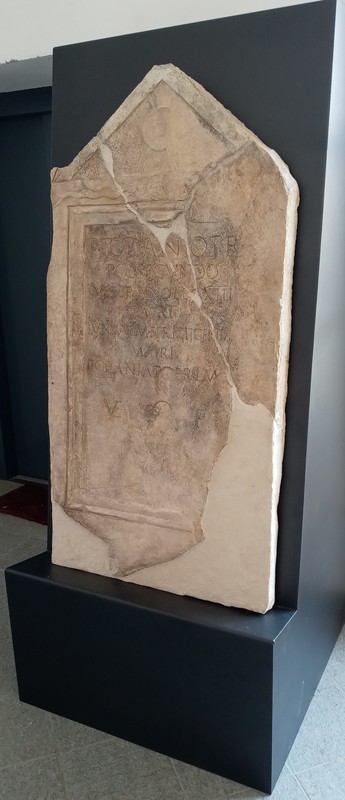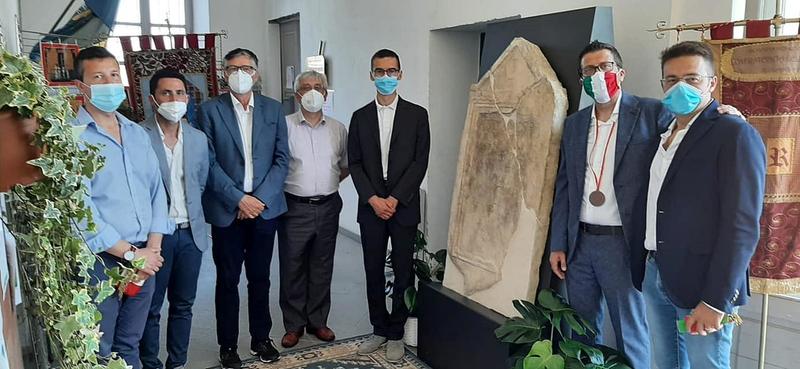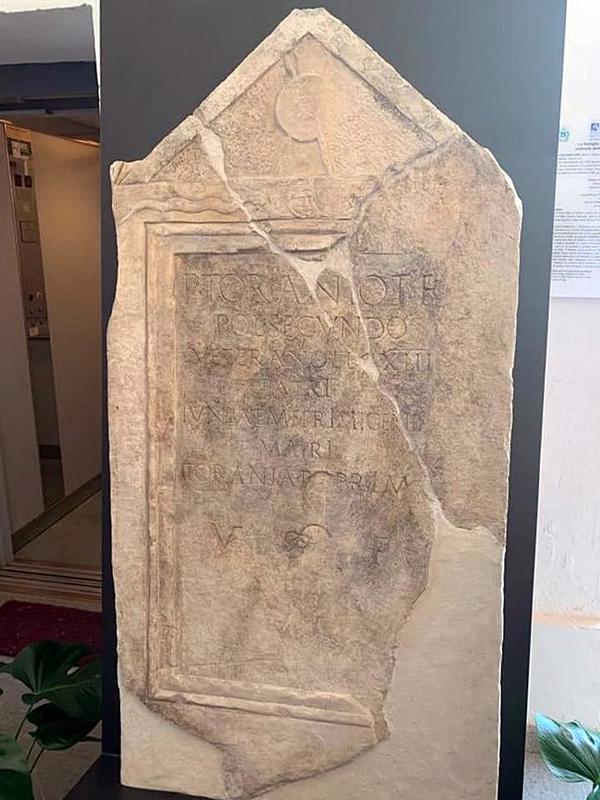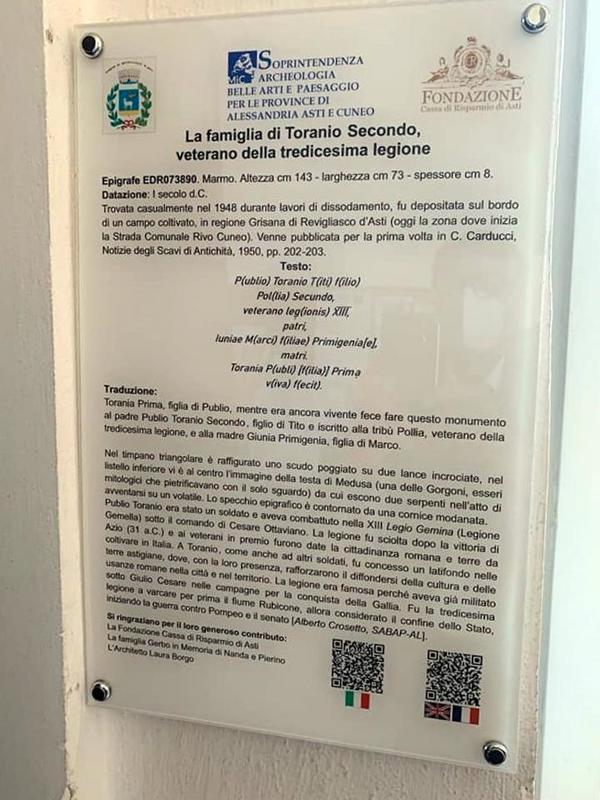 ---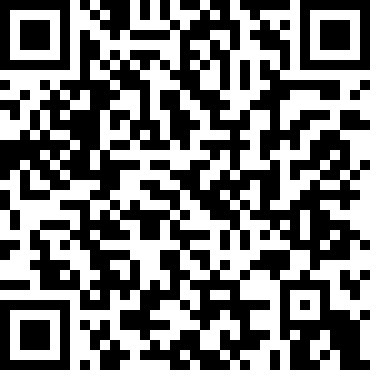 ---